Brother Norman Wray. Our friend and hero died!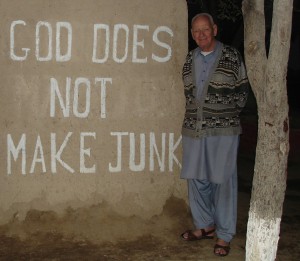 Our friend and personal hero died last week a few days before Christmas 2014 on the age of 91 years. Brother Norman Wray. A national of the USA, who came over to Karachi in 1962 to establish the St. Patrick's Technical High School. Soon after his retirement twenty years later he joined the Mary Adeliade Lepracy Centres team to serve the leprosy patients.
Brother Norman completed 72 years of humanitarian service. When Alzheimer clouds came over his mind uur 92 -year-old friend lived the last couple of years  with Derek and Berna Dean in their home in Karachi.
He was born in 1923 in Chicago. When the young Norman saw children scouring the garbage for food, that he was inspired to help the poor. When he was 19, he took the sacred vows of poverty, chastity and obedience. "Where I be, but for the grace of God," he said, answering why he had joined the De La Salle Brothers, a worldwide organisation within the Catholic Church. In 1967 he was sent to Karachi, little knowing that the country would become his permanent home. "He was an auto instructor at the St Patrick's Technical School and later became its principal. But too much power did not please him. He wanted to do something different" .
It was at the technical school that he started to reach out to those in the grip of addictions. "There were two alcoholics," he recalled. "He wanted to help them. One was George." The Alcoholics Anonymous 12-step programme was initiated in the school's pumping house. A year later while in-charge of the organization's vast farm in Sinjhoro (250 km away from Karachi) a much-tortured drug addict crossed his way just by chance. Finding his difficulties problems and to save him from the continued public and police harassments Brother Norman arranged a safe shelter in the farm and also to provide possible cure. Quite successful in the treatment of this addict, he gradually admitted a few more drug addicts thus setting-up a new and unique project – the Mary Adelaide Rehabilitation Programme for Drug Addicts.'.
From the initial recovery of these cases, their number by 1983 had grown up to 250 – 300. Later a Half-Way House was opened in Karachi in 1999 followed by a Drop Inn Center in 2002 and Mobile Unit in 2003 which also provide its services in two areas of the Lyari Town"
We will never forget his words the moment he was looking to one of his addicted boys: ' That could have been me'.